The simple pizza dough recipe is ideal for those who want to gather the family and make a pizza allotment without leaving home and without spending a lot of money.
If you've always wanted to learn how to make simple homemade pizza dough, this is the time!
Here I'll go over all the details for you to feel like a real pizza maker and make a really delicious pizza.
When I worked as a pizza maker, on my day off I had to make pizza at home for relatives and friends, it was already a tradition and I loved this tasty routine.
So after I stopped working as a pizza maker I started doing it more often and a lot of people asked me how I made a pizza in the stove oven look so similar to a pizza in the wood oven.
And today I'm going to tell you the secret that nobody tells you, I'm going to teach you how to make a simple, easy and economical pizza dough recipe for you to make at home.
Once you learn how to make this delicious dough, just choose the filling and run to the kitchen, as the preparation process is very fast.
At the end of this recipe I will leave you my recipe for homemade sauce. Simple Pizza Dough.



Let's Start With Dough


Ingredients:
400g of unleavened wheat flour
1 and 1/2 tablespoon of dry biological yeast
1 level tablespoon of sugar
1 tablespoon of salt
5 tablespoons of soy oil
1 cup of warm water

Preparation mode:


In a bowl add the yeast, sugar, oil and warm water.
Stir well, add the salt and then gradually add the flour.
When the dough starts to set, transfer it to a smooth surface.
Work and knead the dough until it is very homogeneous.
Roll the dough into a ball, place it in a bowl and sprinkle all-purpose flour over the dough.
Cover with a cloth and let it rest for 40 minutes or until it doubles in size.
Then roll the dough into a pizza pan.
TIP: You can roll the dough out with a rolling pin or spread it on the pan with your hands. You can also use a square or rectangular baking sheet.
Place in a preheated oven at 180ºC for about 10 to 15 minutes to pre-bake the dough.
Remove the pre-baked dough from the oven and spread tomato sauce to taste on top of the dough.
Place the filling of your choice on top of the sauce.
Then bake for about 15 to 20 minutes or until the filling melts and the sides are golden.
TIP: Don't leave it too long so your pizza doesn't dry out and hard.

In addition to being practical and very versatile, pizza can be served in different situations, such as meetings with friends or family, dinners or even quick snacks.
Below I have separated tips for preparing the different ingredients and then a list with various flavors of fillings to accompany the dough.



1. Ground beef: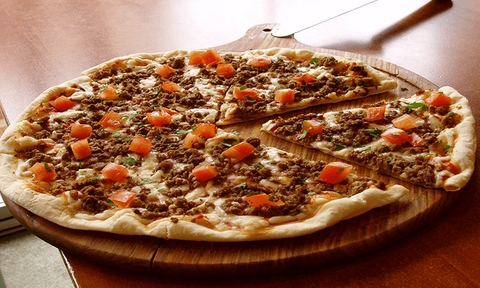 The ground beef on this pizza has a two-in-one function: it serves as a dough and filling.
To prepare this recipe it is only necessary to season the minced meat, line a frying pan with it, turn the side after it is browned and, finally, cover with mozzarella, tomato, salt and oregano.
2. Margherita: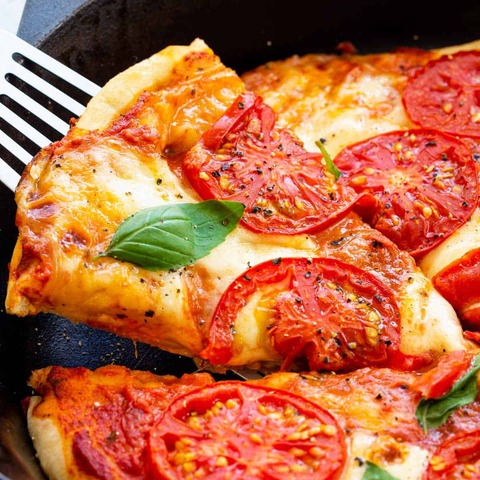 The filling of this pizza is made with tomato sauce, buffalo mozzarella, basil, grated Parmesan cheese and olive oil.
It's a very traditional and tasty margherita pizza that you can prepare and serve to your friends!
3. Bacon: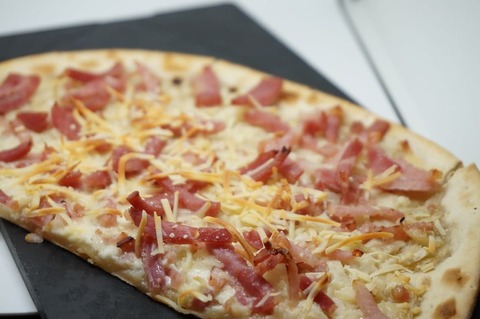 This is a very simple filling option. Simply cut the bacon into strips and place in a skillet to fry. It's interesting to add mozzarella to the filling as well.
4. Portuguese: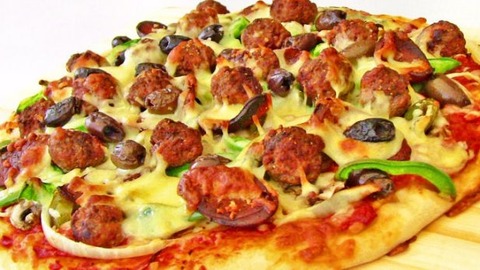 The filling of this pizza is made with chorizo ​​or pepperoni, tomatoes, mozzarella, onions and black olives. You just need to chop the ingredients and then spread them over the pizza dough.
5. Pepperoni: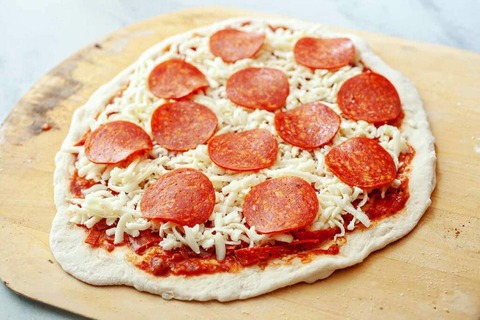 To prepare the stuffing for this pizza you just need to put on the dough: tomato sauce, mozzarella, pepperoni, onion and parmesan. Then just take it to the oven to bake.
6. Chicken: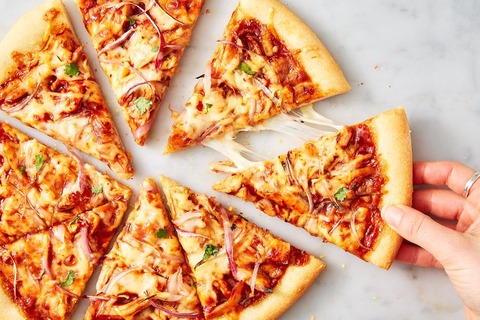 To fill this pizza you will need a shredded chicken. In addition to the meat, the suggestion is to add tomato sauce, mozzarella cheese, green corn, peppers, olives and oregano.
7. Neapolitan: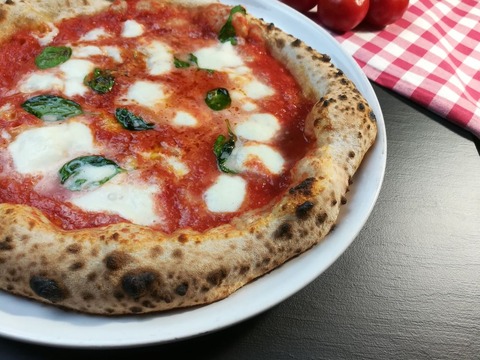 Neapolitan pizza is a great option for those who like strong flavors. The filling is made with anchovies, black olives, capers and mozzarella.
8. Four cheeses:




The cheeses chosen to fill this pizza were: mozzarella, gorgonzola, curd and parmesan.


9. Tuna:


This is a stuffing that takes very little work to prepare. Simply drain the liquid (olive oil or water) from the tuna can and spread it over the pizza dough. The suggestion is to add mozzarella, tomato and oregano.
10. Mozzarella, Parmesan and Bacon: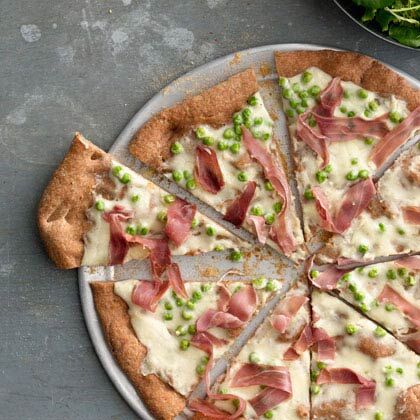 The combination of cheese and bacon is appealing to many palates, so why not add these ingredients to your pizza topping? You can also add tomatoes and oregano.


11. Arugula with sun-dried tomatoes:



In addition to arugula and sun-dried tomatoes, this pizza's filling also uses olive oil and tomato sauce. You just need to wash and chop the ingredients.
12. Loin:

For those who like pork, this is a great and simple option. In addition to the sirloin, you will need tomato sauce, mozzarella, green olives and oregano.
Best Special Fillings: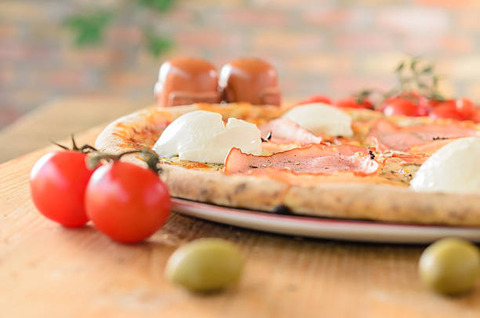 13. Tropical: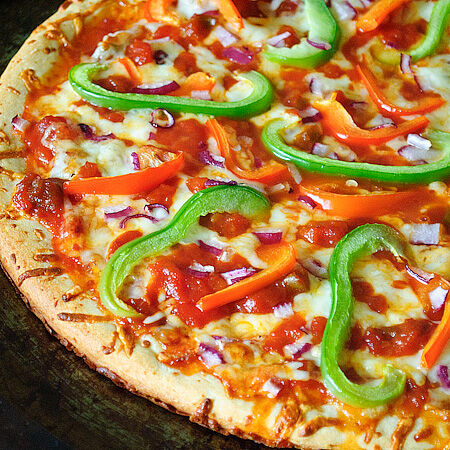 The ingredients to fill the tropical pizza are: mozzarella, shrimp, bacon and pineapple. In a single pizza you can taste salty, sweet and sour.
14. Chicken with sausage:
The chicken used for the stuffing of this pizza is shredded, besides it and the sausage, the suggestion is to add red pepper, grated cheese, oregano and pepper.
15. Filet and 4 cheeses: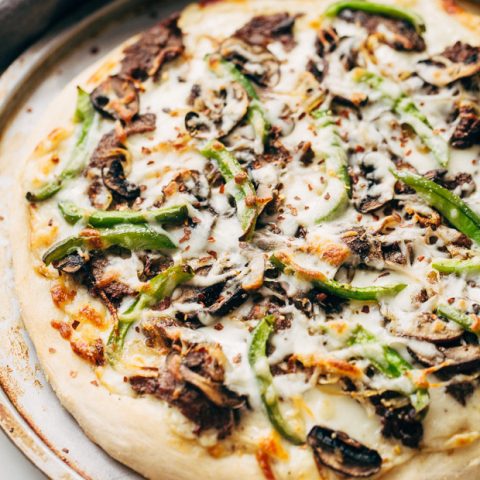 To prepare the filling of this pizza, the filet must be cut into strips and sealed. The cheeses chosen were: pecorino, petit cantal, provolone and grana padano, but you can substitute cheeses of your choice, such as gorgonzola and mozzarella, for example.
16. Brie, ham and arugula:
Preparing the filling for this pizza is a very simple job. All you need to do is spread tomato sauce over the dough and then spread the chopped mozzarella, brie, ham and arugula. Once your pizza is assembled, just take it to the oven to bake.
17. Bacon and pepperoni:


in addition to bacon and pepperoni, this recipe suggests using other ingredients to fill your pizza, they are: green peppers, onions, mushrooms and bacon bits, in addition to tomato and mozzarella sauce.