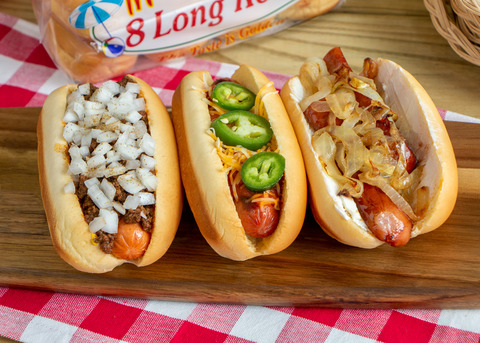 A sandwich with sausage inside. That's basically how we define a hot dog. However, this typical US dish has different ingredients around the world.
Are you a fan of a good hot dog? Want to learn new ways to do it even with a gourmet twist? Then you arrived at the right post. Check out some hand-selected recipes below. What do they all have in common? The fact that they are perfect for those who love hot dogs, of course.
On this list you will find 10 Best Hot Dog Sauce Recipes. You'll learn how to make an Easy and Quick Sauce for a tasty Hot Dog. To start preparing your Hot Dog Sauce. Write down the ingredients of your favorite recipe. After that follow the step by step of the Hot Dog Sauce Recipe.
Hot dogs can be a nice choice for dinner. And this dog here is definitely a complete meal. In addition to bread and sausage, add mayonnaise, ketchup, mustard, corn, peas, pickled cucumber, grated Parmesan and potato chips.
Here the idea is to get your hands dirty literally. You prepare the dough in which the sausage is rolled. No need to be scared: it's easy to make, it's cute and the kids love it! The ingredient list is very accessible.
The differential of this "perro caliente" is due to the Mexican spices used, such as chili powder, coriander and cumin. The sauce also includes chopped bacon and pepperoni, which makes everything even more delicious.
4. Hot dogs with German sausage:
How about giving your hot-dog a boost? Choosing a few special items already makes all the difference. Here, German sausages go perfectly with the remoulded sauce, made with mayonnaise, mustard, ketchup, lemon juice, onion, parsley, paprika and pepper.
A healthy and tasty alternative. Believe it or not, the stuffing is made with carrots! They are cut into slices and dipped in a special marinade. The sauce, on the other hand, is exquisite, including chopped peppers and even sugarcane syrup.
Recipe with a childhood taste? We have. All you have to do is prepare a very tasty tomato sauce and fill the buns – it can be French bread or whatever you like. Ideal for an afternoon snack or even a birthday party.
7. Hot dogs with cherry tomato sauce:
Some occasions ask for something a little more fancy. And no one said hot dogs can't be special. This sauce here uses cherry tomatoes, peeled tomatoes, garlic, peppers, onions, parsley, pepper (optional), salt and pepper.
If you're looking for a sandwich with a more acidic flavor, this might be a good option. In addition to vinaigrette, emmental cheese is used to complete the flavor.
9. Hot Dogs with Homemade Straw Potatoes:
The preparation of the snack in this recipe is very simple. Potatoes are not difficult to make either, you will need to grate the tuber and then fry it.
How about mixing sausage and sausage to fill your bread? In addition, the tip of this recipe is that these ingredients are grated and mixed with the sauce.
To prepare this recipe you must bake a loaf of milk with a thin sausage. Make a sauce with ricotta cream, Parmesan cheese and chives. Cover with barbecue sauce.
Instead of being boiled in water, the sausages should be roasted for 15 minutes here. The snack also comes with a sauce made with curd cheese and milk. Place on baguette-style bread and bake until browned.
Preparing hot-dog is already mega simple. This recipe is even more. Knead slices of bread using a rolling pin, make a layer of ketchup, add a slice of cheese and a sausage. Secure the ends of the bread with a toothpick and bake. Easy!
It's impossible to say no to this "chic rot". Parma ham, dijon mustard with pepper, tahinne sauce, cheddar paste, grated padano grana and thyme flavored oil are some of the ingredients. Did you feel like it?
15. Hot dogs with shredded sausage:
For a successful party hot dog, try this version. It is made with thin sausages and grated sausages. Inside the bread, it is worth putting a slice of mozzarella cheese. On top, potato chips.
Reading the name, it seems that this recipe is complicated. Quite the opposite! It is made with ready-made puff pastry. In other words, the only job is to open the dough, cut, place the sausage, close it, brush it with egg and bake. And eat afterwards, of course.
To take the hot dog to the next level, add seasoned shredded chicken, cottage cheese, bacon, turkey breast and mozzarella – plus the mayonnaise to taste and the sausage itself. Press until the bread is toasted.
This sandwich is made with bread, Viennese sausage, avocado, mayonnaise and vinaigrette. The spiced fruit is called palta.
If you think eating this sandwich is messy and messy, or you just want to innovate in serving, this might be a good option. The layers are: chopped bread, sausage in sauce, mashed potatoes and cheese.
You must be wondering how the vegan version of this snack is made, right? Sausages are replaced by carrots. Prepare a very juicy sauce to accompany the vegetable.
This rolled up sandwich is super practical to make. So it's a great option when you want something different, without wasting too much time in the kitchen.
In this recipe you will learn how to prepare a dough that will receive the sausages. Once the assembly is ready, just take it to bake.
Soy sausages with vegetables are used to prepare this recipe. To complete the flavor, add corn, straw potatoes, ketchup and mustard.
24. Zucchini Hot Dog:
In this recipe the vegetable is used to replace bread. After you cut it and clean it, fill it with sausage, sauce and cheese.
With a normally simple preparation, the hot dog can please in different situations. Some ingredients appeal more to children, others to adults, and some are loved by people of all ages.